Amie Dworecki, B.S., M.A., is an RRCA-Certified Running Coach, a Wellcoaches-Certified Wellness Coach and an ACE-Certified Fitness Instructor, as well as a former course instructor for the Indiana University School of Kinesiology/Exercise Science.
A runner for over 28 years, her success in breaking three world records for running a marathon on each continent led her to become the second woman listed in the Guinness Book of World Records for such a feat. This included marathons that traversed Antarctica, Siberia, through the Andes Mountains in South America and the Sahara Desert.
She has also competed in extreme events such as Pike's Peak Marathon in Colorado, which runs to 14,100 feet and back, as well as raced locations such as Death Valley, California.
She has placed in, won and broken course records in countless trail and road races in distances from 5K to the ultramarathon (races longer than the 26.2-mile marathon distance), despite the fact that only 20% of all ultra-distance runners are female. She runs everywhere from the Great Wall of China to the Inca Trail in Peru to the Outer Hebrides, Scotland. More traditionally, she has qualified for the Boston Marathon multiple times, as well as the Western States 100-mile ultramarathon.

In her off-season, Amie occasionally enjoys triathlons and other multi-sport events. She has completed the Mt. Taylor Quadrathlon, which covers 43 miles of biking, running, backcountry skiing and snowshoe-running to 11,400 feet and back.  As a Cross- and Backcountry Skier, she finished the most difficult ski marathon in North America, the Birkebeiner 54-KM Nordic ski race.
She has previously been a certified personal trainer, swim coach as well as a group exercise instructor for over 20 years.

She also enjoys organic gardening, healthful cooking, rock climbing, kayaking, international travel and photography. She writes as a health journalist and technologist, exploring nutrition, positive psychology and mind/body science. She loves giving her clients the benefit of this depth of experience and knowledge through her coaching, as well encouraging others to succeed in running and life.
My coaching philosophy puts the whole athlete first. I believe in a strong mind body connection and that a disruption such as stress, poor recovery practices, or nutrition inadequate for training can show up in the athlete's life outside of running. Conversely, science-based research and my experience with athletes has also shown that things disconnected to a running routine can also have a large influence on how well an athlete is able to train.
My background in Wellness Coaching leads me to seek the answers that clients may already have. Rather than tell people what to do, I prefer to listen to them and work with them as a team to help them determine the route that is best for them.
This combined with my certifications as a Fitness Professional, I also believe that runners do best with taking care of the details outside of running such as strength work, drills and core, proper nutrition and overall wellness. Olympic marathon runner Meb Keflezighi also shares this belief, and feels that tending to these "details" is what has allowed him to have continued success into his 40's.

This is also why my programs go beyond "just running." Through them people get a comprehensive, healthy, "Well/Run" lifestyle.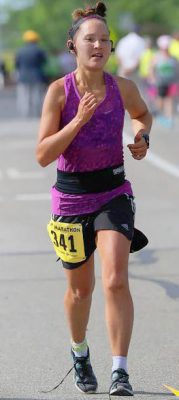 Strictly speaking of running, my training philosophies are based heavily on principles founded by the legendary Arthur Lydiard. Although I feel each athlete varies as to the method that is effective for them – if in real estate, "Cash in king," in running, "Miles are king." I believe that gradually building to a higher volume approach works well for distance runners, and that running must be looked at in a long-term, periodized approach.
I look at speedwork like a spice. Too much and it can overpower and ruin the flavor of the product. Too little, and the end result is bland, without much "kick". The key is finding the amount that works for each athlete to maximize their performance.
Personally, I believe in putting complete and total focus into my run training and above all, health. This is not a luxury, it is a choice. They say I am an ultra-runner. I believe it's because I am ultra-dedicated, ultra-focused and ultra-passionate about running! Arguably one of the greatest distance runners of all time, Haile Gebrselassie, has said, "I always tell young athletes the same thing, 'Wherever you go, whatever you do, what must your top priority be? Running.'" If you apply focus plus consistency you will get success. 
Above all, I believe that everyone has a right to give themselves a healthy and fulfilling life. More than PR's or winning races, I believe training is best when it is challenging but fun, and is prioritized into an overall lifestyle of health. It is optimized when the runner truly LOVES what they are doing.  
I tend to be very inclusive in my thinking – how can we get more people of all levels involved and healthier through this beautiful sport of running? That is my true goal.

Run with Life… -Coach Amie